HEX FIGHT SERIES
A nostalgic look at some of the key moments that have helped define Hex Fight Series as the leading MMA organisation in Australia. With 11 amateur shows and 20 professional shows Hex Fight Series has proven to be the breeding ground of champions, with 12 fighters making the direct transition into the UFC!
…And to think we're just getting started
Our aim is simple, as a promotion we aim to stage the best and most professional Mixed Martial Arts shows in Australia with a production that is world class. We do this by bringing some of the biggest names around the world down under and highlighting local talent.
We deliver exhilarating fights for the fans at an experience that is second to none in this country which has been illustrated through the diversity of our audience and acknowledgement by our peers even at the highest global scale.
As a brand strive to grow awareness of participation in supervised & disciplined fighting styles, dispel misconceptions and stigmas about the sport and most importantly provide a world stage for local fighters to gain recognition.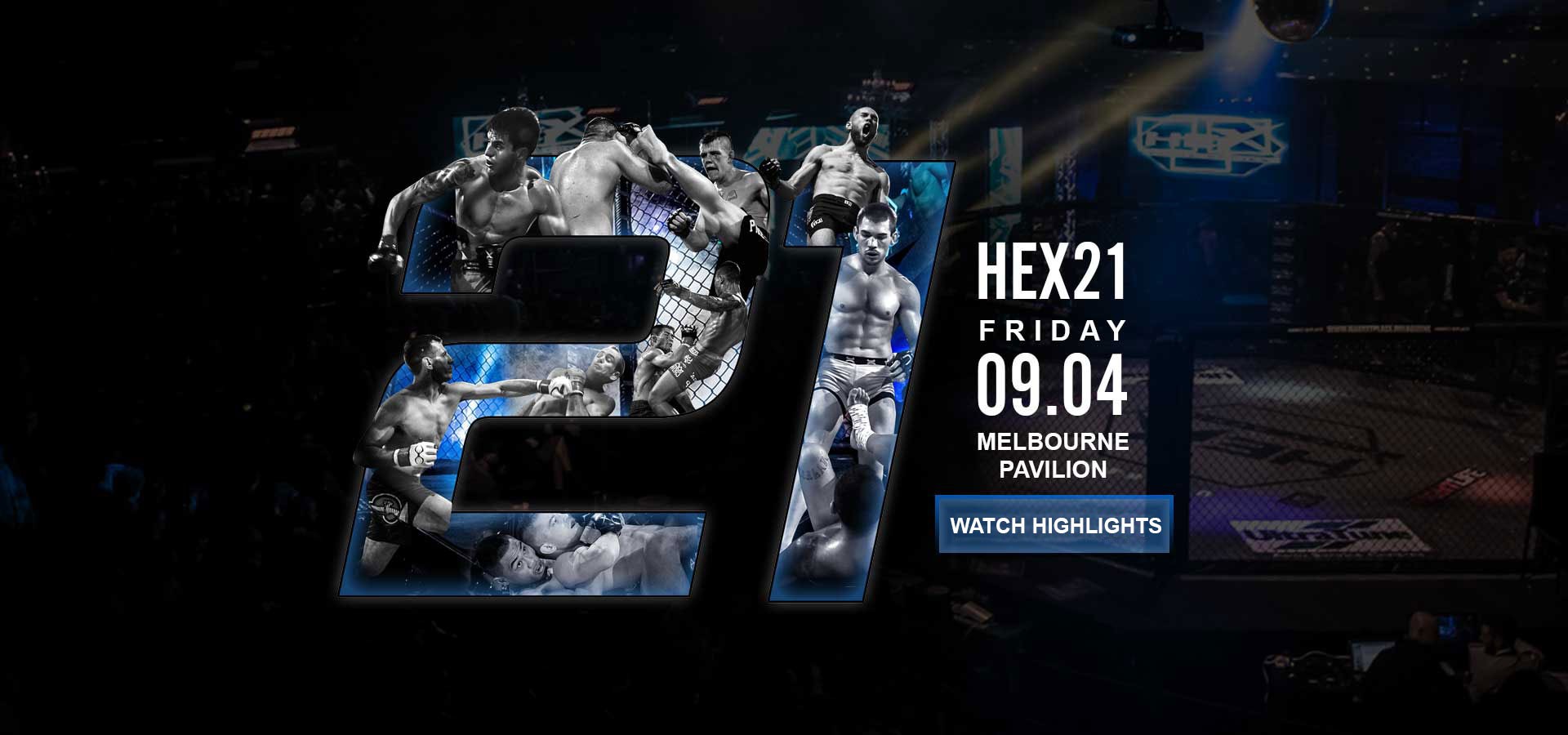 Hex Fight Series returns to Melbourne Pavilion on Friday 9th of April for Hex 21!
Australian MMA fans have been eagerly awaiting the return of Australia's premier mixed martial arts promotion, now finally, the wait is over. The big stage of Australian MMA returns to Melbourne Pavilion to showcase some of the finest home grown and international talent on the professional MMA scene today. Hex 21 boasts many bouts ranging across multiple weight classes, with fighters from varying styles flying in from all around the country to participate, it's sure to be a night to remember.
Jim Crute (Hex Light Heavyweight Champion)
Mike Hingston catches up with Hex Fight Series Light Heavyweight Champion Jimmy "The Brute" Crute at Hex 11
Nathan Reddy KO at HEX 16
Nathan Reddy defeats Parminder Singh via a beautifully timed 1st round KO in the main event at Hex Fight Series 16.
Israel Adesanya's Huge Knockout!
"The Last Stylebender" Israel Adesanya… bends time and space with a kick that defies all logic, to walk away KO Stu dare and become the new Hex Middleweight Champion.
Suman Mokhtarian winner via Twister SUB!
Suman Mokhtarian made headlines in June after his Teepee submission from Hex 9 went viral and was seen by millions around the world! He is set to do it again after his Twister submission at Hex Fight Series 10
Proud partners of HEX FIGHT SERIES