HEX FIGHT SERIES
A nostalgic look at some of the key moments that have helped define Hex Fight Series as the leading MMA organisation in Australia. With 11 amateur shows and 20 professional shows Hex Fight Series has proven to be the breeding ground of champions, with 12 fighters making the direct transition into the UFC!
…And to think we're just getting started
Australia's Premier Mixed Martial Arts Organisation
fighters transitioned to global mma promotion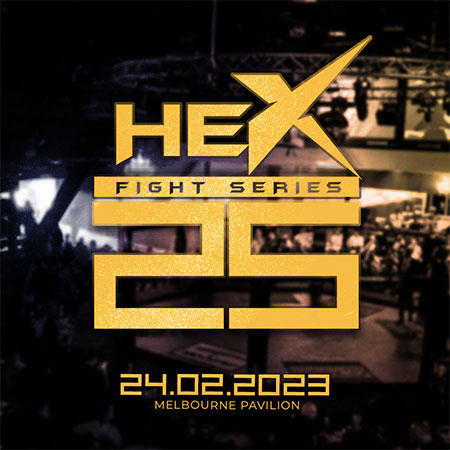 HEX FIGHT SERIES 25
Friday, 24th February 2023
Melbourne Pavilion
UFC Featherweight Champion, Alexander "The Great" Volkanovski steps into the Hex ring
Feb 28, 2022
Congratulations Sam "K9" Kei on Your Recent Signing to PFL!
Feb 25, 2022
Hex Fight Series team would like to congratulate "Razor" Rob Wilkinson on his recent signing to PFL
Feb 24, 2022
Hex 22 Highlights | JOSHUA O'DONNELL V DIELLON LIHARI
Feb 24, 2022
Hex 22 Highlights | JASPER DUNPHY V ABEL BRITES
Feb 24, 2022
Hex 22 Highlights | Justin Van Heerden v Joshua Riley
Feb 23, 2022
Hex 22 Highlights | Jamie Hunt v Nikos Trepca
Feb 23, 2022
HEX COMMENTATOR FRANK BARCA CATCHES UP W FORMER HEX LHW CHAMPION AND CURRENT UFC FIGHTER JIMMY CRUTE
Dec 6, 2021
MARK HAMMER CASTAGNINI INTERVIEWED AUSTRALIA'S #1 AND WORLD #8 MIDDLEWEIGHT BOXER MICHAEL ZERAFA
Dec 5, 2021
Proud partners of HEX FIGHT SERIES