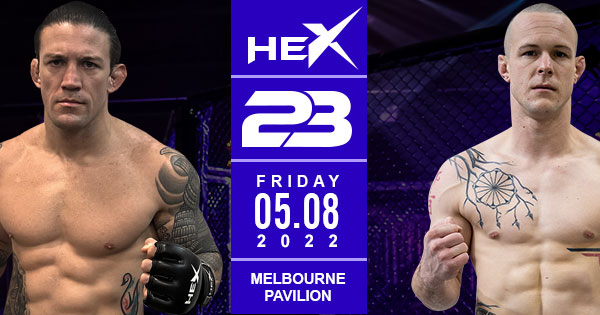 Hex Fight Series 23
Friday 5th August, 2022 | Melbourne Pavilion, Flemington VIC
Determined to deliver one of the biggest cards in Australian MMA History, Hex Fight Series has signed Hoshi Friedrich to replace Abel Brites Prize Fighter in the main event at Hex Fight Series 23. Hoshi has been hovering at the top of the rankings and patiently waiting for a shot at the title, albeit on late notice and against a formidable JJ Ambrose.
Stepping up to the plate without hesitation on just a few hours notice, the 'Freight Train' will look to back up his previous win, undoubtedly with a highlight reel finish. Both fighters move between weight divisions and with both athletes only ever looking to face the best, this fight promises fireworks. This fight will no doubt have every top ranked welterweight & middleweight in the region watching intently as this could very well be their next opponent.
A huge thank you to our major sponsors at Cycon Civil & Addikted to Ink for making this possible.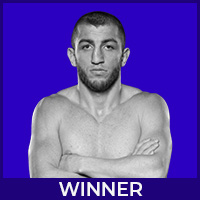 And just like that your HEX 23 fight card is in books, what a night of superbly contested fights culminating in a rematch between Dzhabar Askerov and Jonathan Tuhu.
Slick transitions between the striking and grappling left Tuhu without an answer for the experienced Dagestani's hands. Another vicious knockout for Dzhabar as he moves onto 5-0 inside the octagon.
Congratulations to Dzhabar and the team at Mat Masters on the big victory, we're looking forward to seeing you back in the octagon soon!!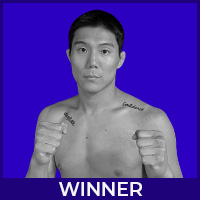 When two warriors leave everything in there like that – you can only stand and applaud.
What a strategic 3 rounds of mixed martial arts action, with the judges edging it 29-28 for the KTT product Sang Won Kim. A closely contested bout that had the crowd up on their feet, congratulations to Sang Won and the team at KTT on a spectacular performance of skill.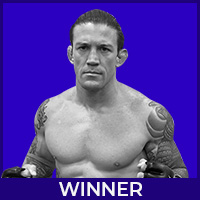 After a technical battle of wits, JJ Ambrose laces up the one armed guillotine and submits Hoshi Friedrich in the second round to claim HEX Super Lightweight gold.
Congratulations to JJ and his team on an incredibly well fought championship performance!!
Massive shoutout has to go to Hoshi Friedrich and Kings MMA for taking this fight on such short notice without any hesitation. When so many said no, these guys never once did and faced the challenge head on. Huge respect to Hoshi and his team, who we'll undoubtedly be seeing again in the HEX Octagon.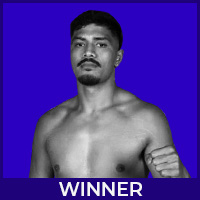 He's a bad bad man – WHAT A FIGHT!!!!
Junior and Kelvin left everything they had in the HEX Octagon and traded heavy leather for as long as it lasted. It finished with Junior landing a nasty uppercut that sent Kelvin straight to the canvas, even after showing he could eat Juniors best shots throughout the opening stanza.
Junior Tafa moves onto 2-0 with 2 KO victories to open his career; congratulations to Junior and the whole team at NTG on the big win. We're excited to see what else is in store for Junior in the future.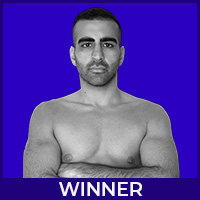 WHAT A FINISH!!!
After a back and forth opening round, Sarmad Jahanara lands a huge knee in the clinch to knock Lim Yong Ju out cold in the 2nd round. A seriously slick striking display from Sarmad, which is something I'm sure we'll be seeing far more of in the future.
Congratulations to Sarmad and the team at Absolute MMA on the performance, they finish the night a perfect 3-0.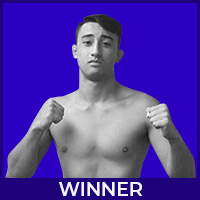 After 3 beautiful rounds of technical action, we go to the judges scorecards to split these two warriors. All 3 judges scored the bout 30-27 for the Peanut Butter King who moves to 2-0 after putting the rest of the division on notice.
Congratulations to Josh and the team at Absolute MMA on a stellar performance – we're looking forward to seeing what's in store for him next!!!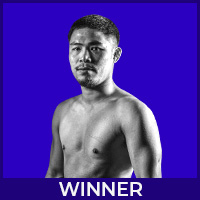 What an action packed fight between two warriors in Joshua Riley and Jeff Mesa. After 2 grueling rounds – it was Josh who opened the final round strong and started regularly finding a mark for his hands, landing some huge shots to force the referee to step in and stop the fight.
A great display of skill by both fighters, congratulations to Josh and the team at Mat Masters on a gutsy win.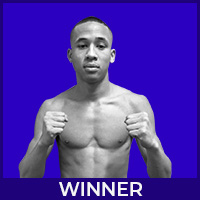 A technical fight from the outset, Semakadde Kakembo and Kwon looked to test each other in all elements of Mixed Martial Arts. Despite opening up the night with his striking, it was Sem's grappling that got him the first round Rear Naked Choke and saw him improve to a 4-0 record. A very impressive technical performance that is sure to put the top of the Featherweight division on high alert.
Congratulations to Sem and the team at Absolute MMA on a near picture perfect performance.