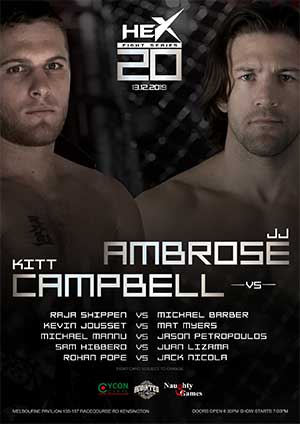 Hex Fight Series 20
Melbourne Pavilion, Flemington VIC
Friday 13th December, 2019
The card for Hex Fight Series 20 last Friday, December 13th!
Due to some unfortunate pull outs the week before the event, we have a smaller card than normal, however every fight on this line up is set to be EPIC and have you perched on the edge of your seats!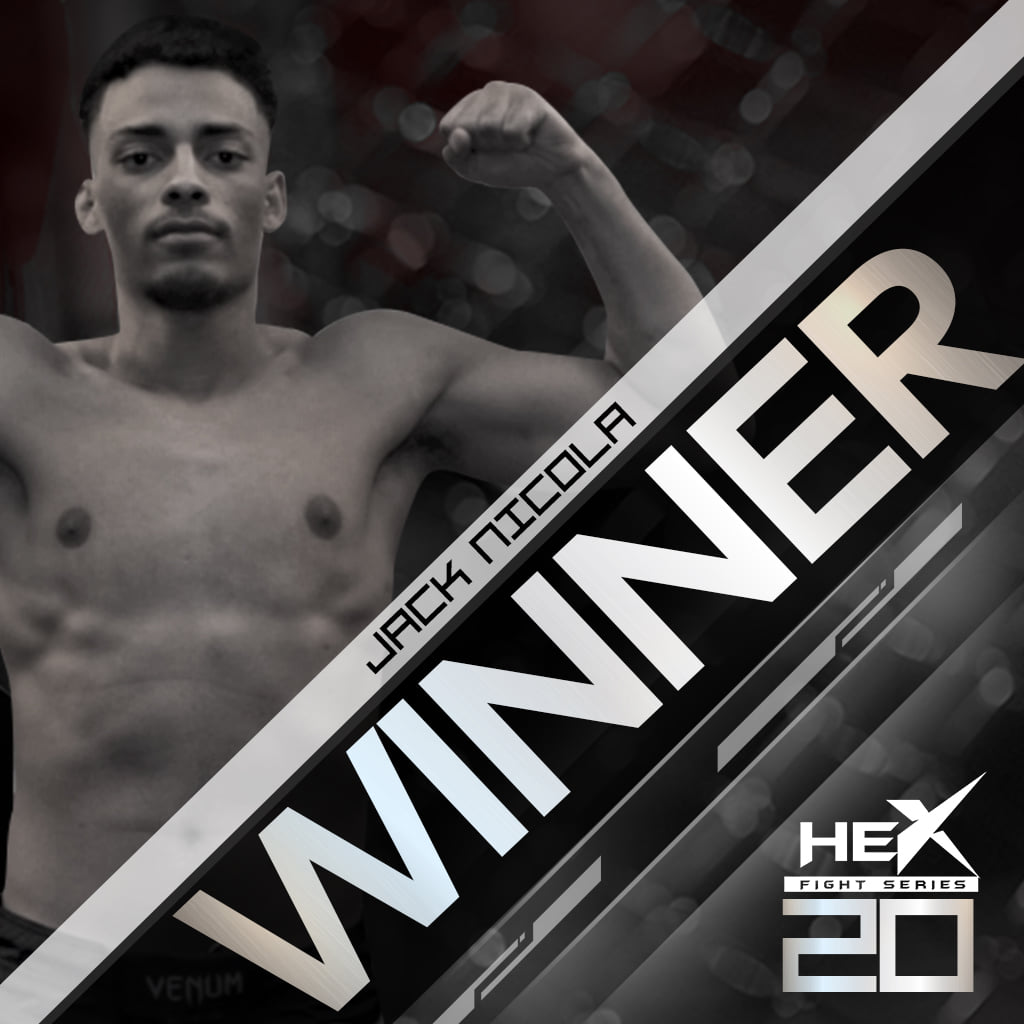 Wow! What an electrifying start to Hex Fight Series 20 as Jack Nicola knocks out Rohan Pope with a devastatingly powerful right hook that sent his opponent crashing to the canvas within the first 30 seconds of their bout. There was no need for a follow up attack in this one and the referee waved it off immediately. With such a sensational performance, Hex fans can bet they'll be seeing a lot more of the French born rising star in the near future!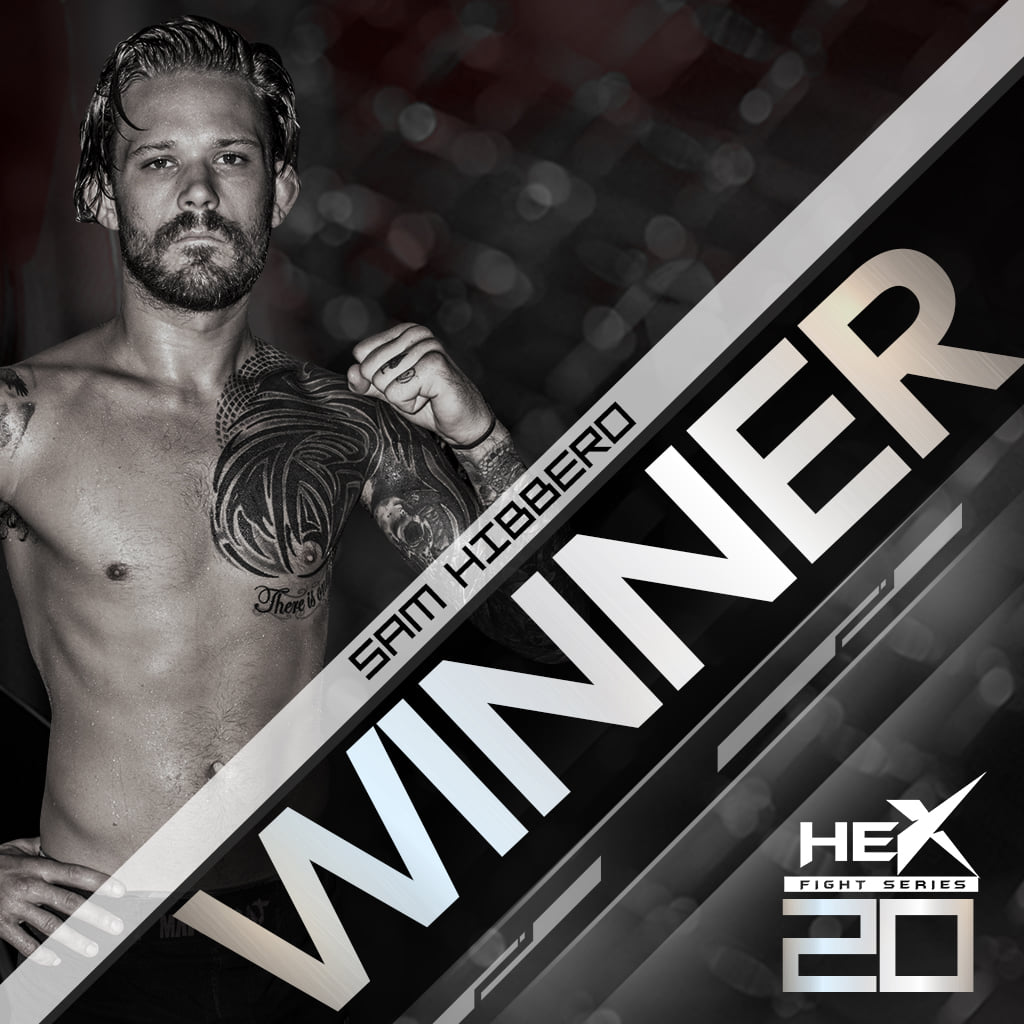 Our second fight of the night is in the books as Sam Hibberd defeats Juan Lizama via 2nd round submission. After landing some heavy punches early, Lizama was ultimately overwhelmed by the grappling prowess of Sam Hibberd, who scored with multiple takedowns before securing a tight darce choke on his Guamanian opponent. Hibberd showed his experience in this one, staying calm under fire in his Bantamweight debut.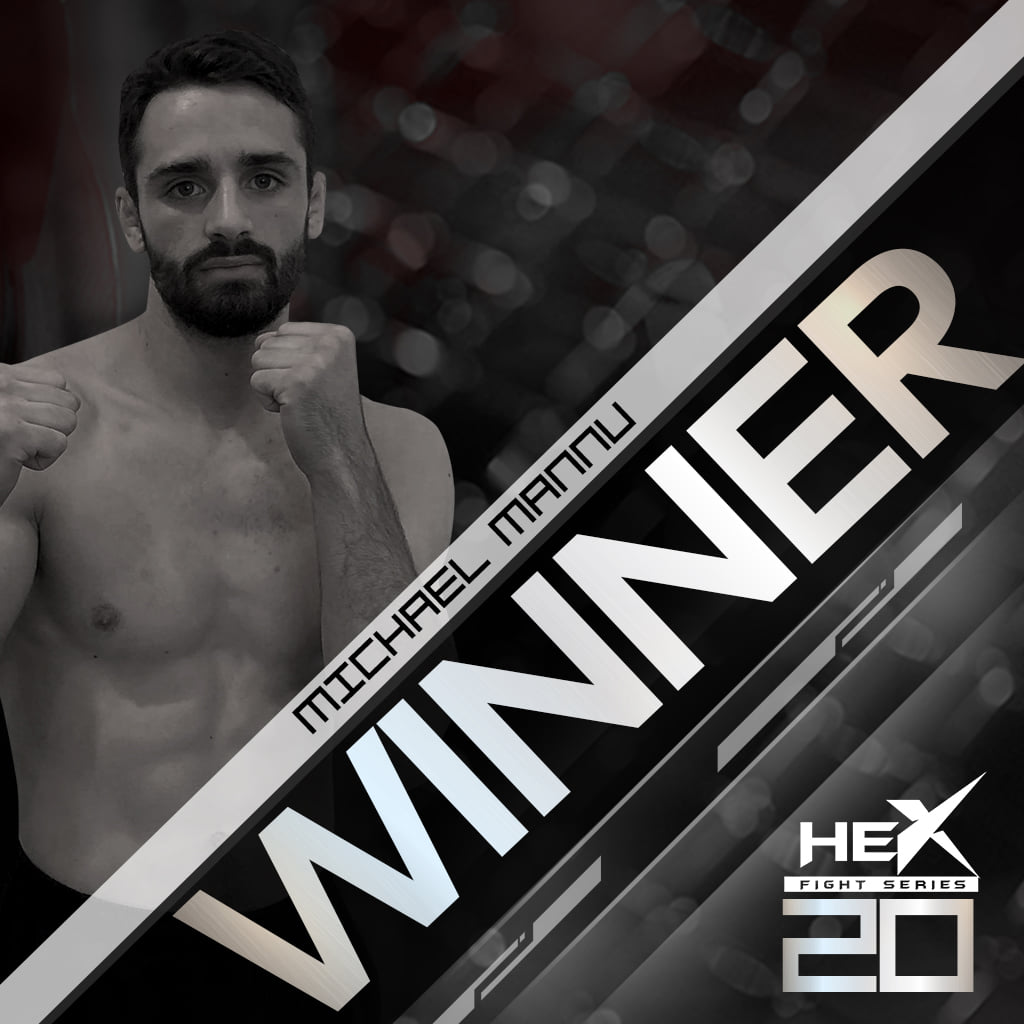 Our third fight is all over as Michael Mannu defeats Jason Petropoulos via TKO at the end of the second round. After two rounds of action which saw Mannu attacking Petropoulos with a variety of strikes while successfully defending Petropoulos' multiple takedown attempts, Petropoulos couldn't answer the bell for the third and final round due to a rib injury. Keep your eyes on Michael Mannu, Hex fans just witnessed a very intelligent performance from the Dominance MMA prospect.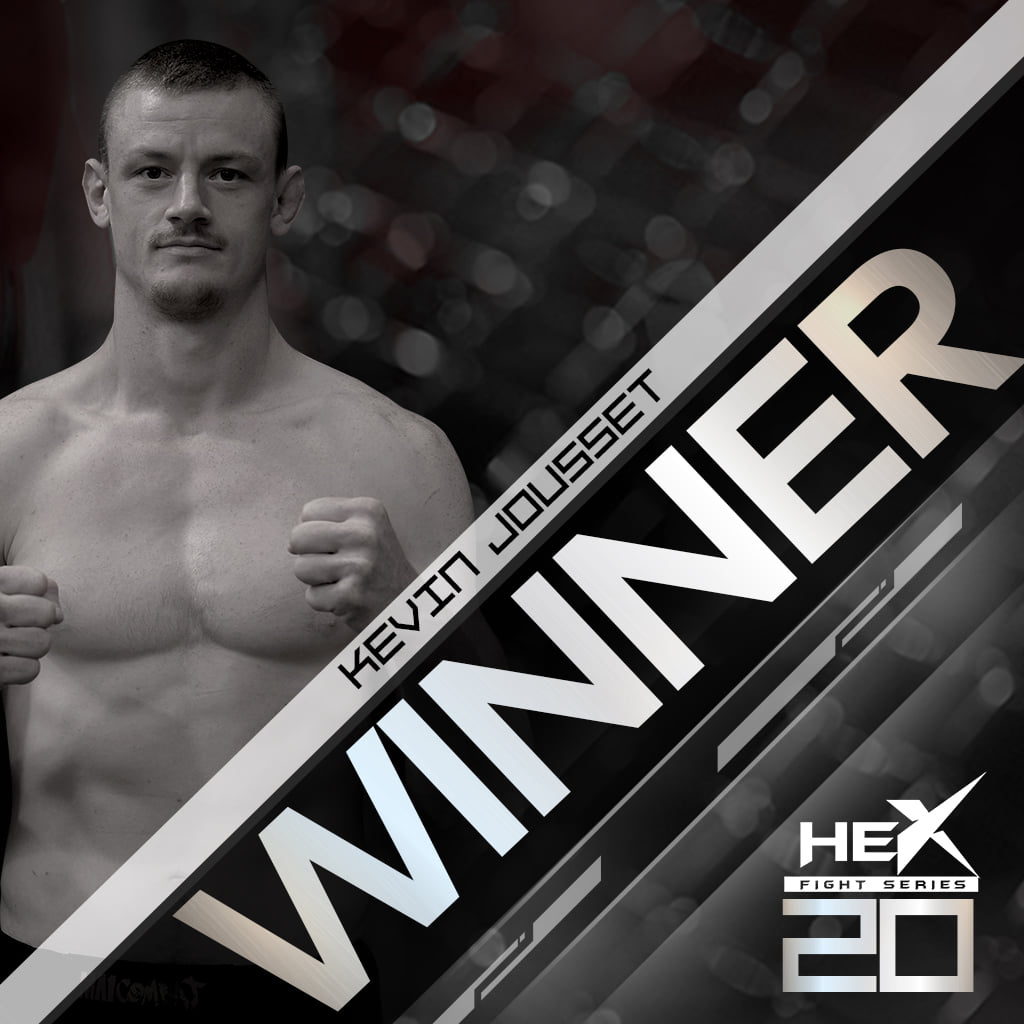 Another thrilling bout is in the books as Kevin Jousset defeats Mat Myers via unanimous decision. After three gruelling rounds of action which saw Kevin Jousset land multiple Judo throws and control the majority of the contest with his grappling skills, the judges awarded the Judo black belt the victory. Despite the loss, Mat Myers showed incredible toughness during the bout and survived some nasty cuts while escaping multiple submission attempts.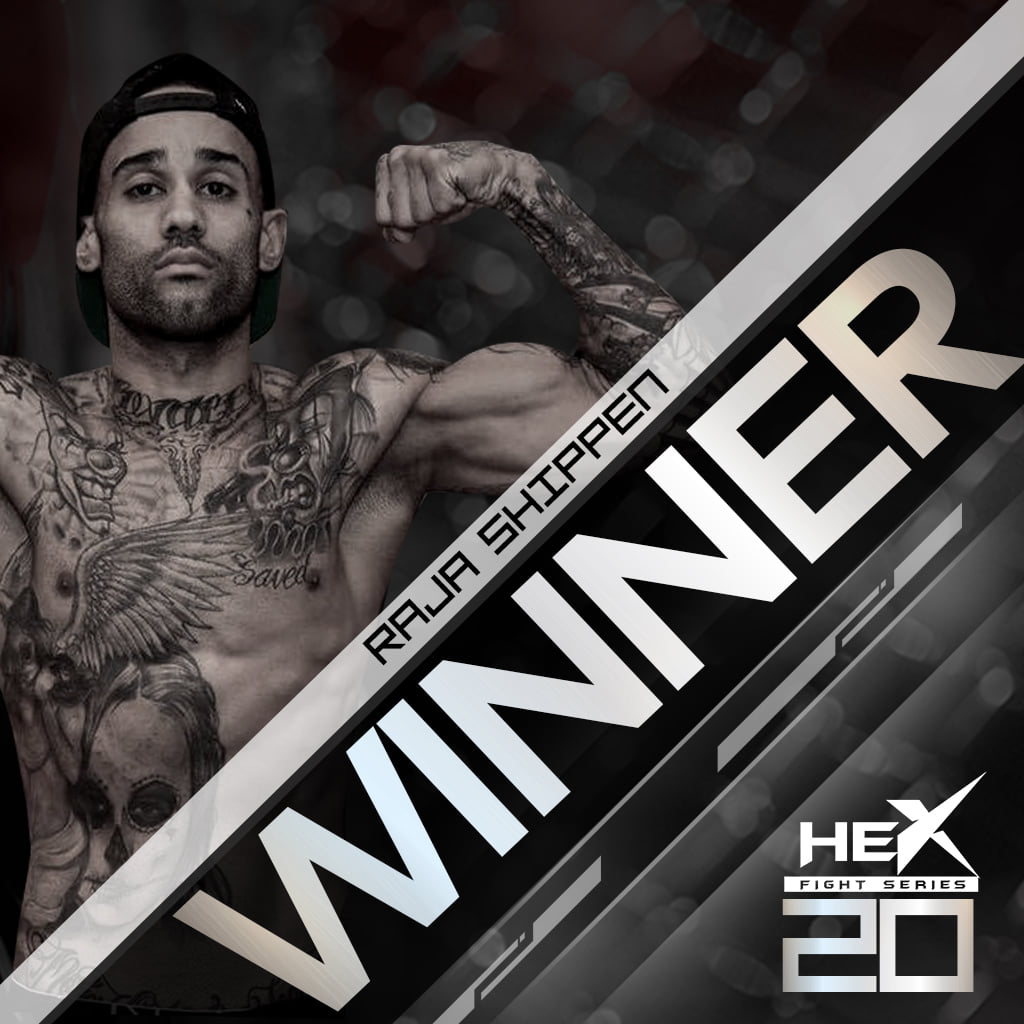 What a knockout! Raja Shippen defeats Michael Barber via 1st round KO. Shippen landed a devastatingly accurate spinning elbow right on the jaw of Barber, knocking him out cold against the cage as the entire crowd jumped to their feet. Hex 20 continues to deliver amazingly thrilling action inside the cage.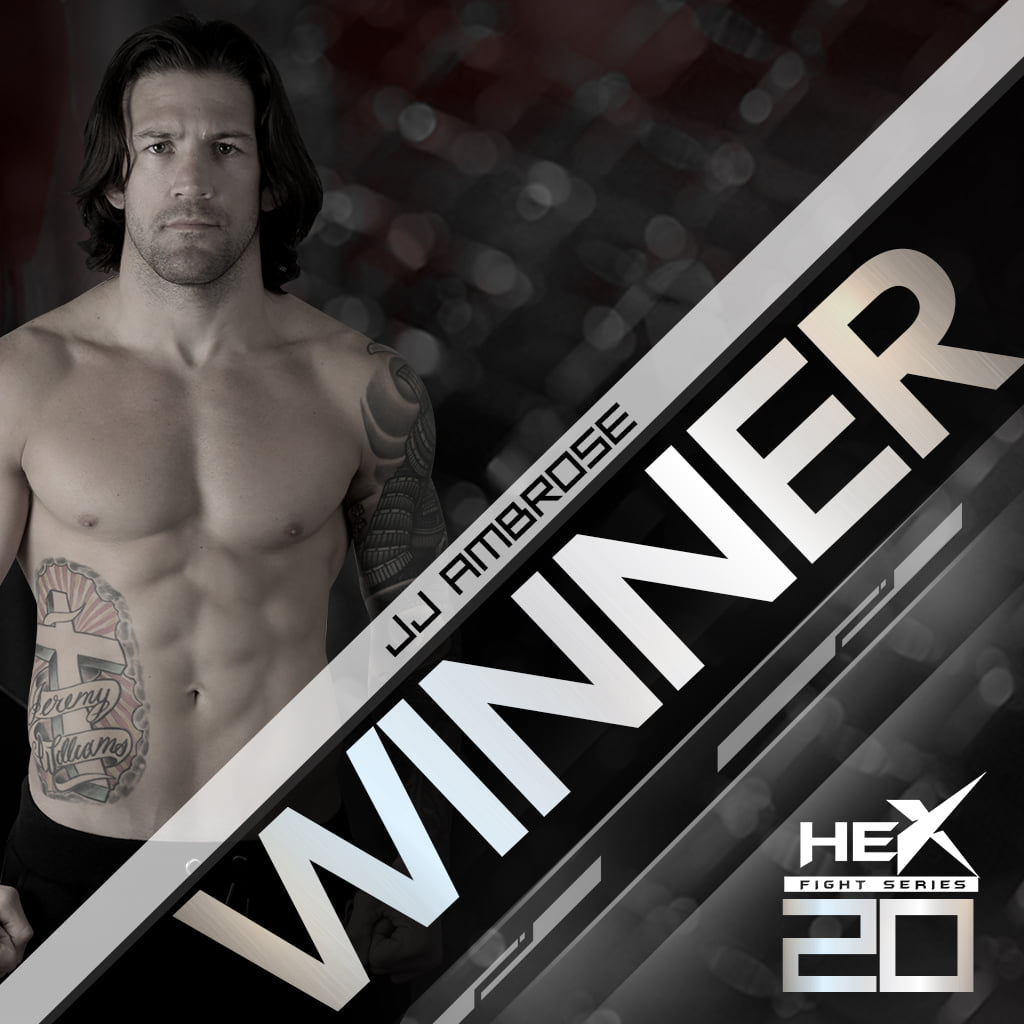 What an intense main event battle! Hex Fight Series 20 finishes with a bang as JJ Ambrose defeats Kitt Campbell via unanimous decision. Campbell looked extremely dangerous from the opening bell, firing lightning fast strikes on his American adversary, but it was Ambrose's grappling that was ultimately too much for the former Hex Champion. Ambrose scored multiple takedowns on Campbell and controlled the majority of the contest on the mat. What an amazing night of action!