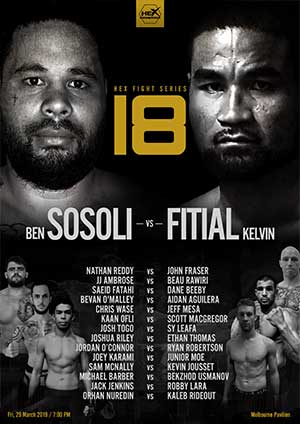 Hex Fight Series 18
Melbourne Pavilion, Flemington VIC
FRIDAY 29TH march, 2019
Our completed card for Hex Fight Series 18 is stacked with the next generation of both local and international talent! Headlined by hard-hitting heavyweights Ben Sosoli MMA and Kelvin-Yuline Fitial, fans at Melbourne Pavilion are sure to see fireworks!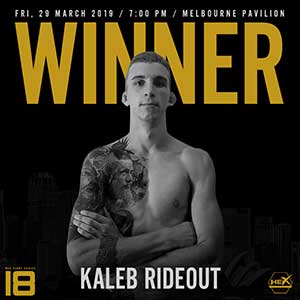 We're off to a blazing start at Hex Fight Series 18!! After some back and forth action from both fighters, Kaleb Rideout defeats Orhan Nuredin via TKO half way through the very 1st round. Rideout landed a head kick and wobbled Nuredin, before moving in for the finish via ground and pound. Stay tuned for more updates. We're in for a massive night of action!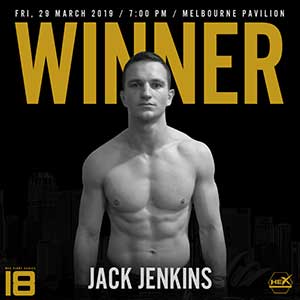 Jack Jenkins defeats Robby Lara via unanimous decision (30-27 30-27 30-25). After three rounds of action which saw Jack Jenkins dominate with a deadly combination of takedowns, ground control, and ground and pound, Jenkins looked outstanding on his way to his fourth professional victory.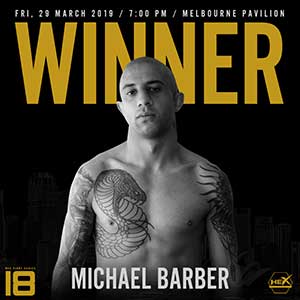 What a war! Michael Barber defeats Bekzhod Usmanov via Unanimous Decision. Usmanov won the first round with some explosive takedowns and striking, however, as the fight went on, Michael Barber put the pressure on with forward momentum and crisp striking. The crowd was electric as these two warriors went toe to toe inside the Hex cage.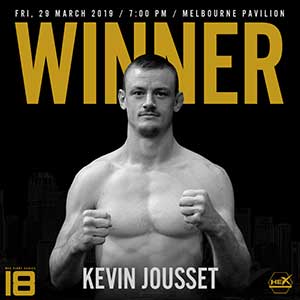 WOW! The roof nearly came off the Melbourne Pavilion as Kevin Jousset defeated Sam McNally via first round KO. Jousset landed some thunderous strikes, wobbling McNally and dropping him, while McNally showed incredible toughness, Kevin Jousset continued the onslaught until the referee had seen enough. Huge win in his professional debut!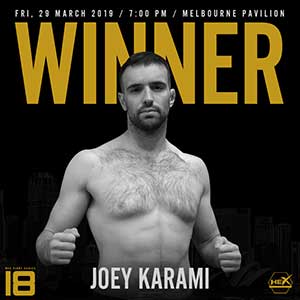 The action continues as Joey Karami defeats Junior Moe via Unanimous Decision. It was obvious from the beginning that Karami wanted to grapple, and Moe wanted to strike. On this occasion, it was Karami that implemented his gameplan successfully, taking Junior Moe down on multiple occasions and taking all space away from the striker. Congratulations to Joey Karami who picks up an impressive win with a dominant performance.
Ryan Robertson defeats Jordan O'Connor via submission in round number two. Robertson took O'Connor down early on in the second round, before making his way onto O'Connor's back. Robertson then attacked with the rear naked choke relentlessly, and as O'Connor continued to defend and fight the hands, Robertson was eventually able to secure the finish, forcing O'Connor to tap at the 3.20 minute mark of the round.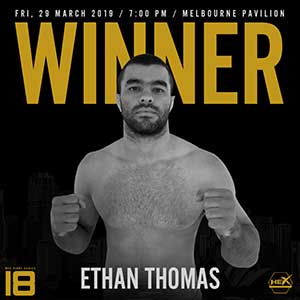 What an impressive performance as Ethan Thomas defeats Joshua Riley via rear naked choke 2 minutes and 58 seconds into round number one. Ethan Thomas scored an early takedown, then controlled Riley from the back, and eventually secured the choke. Very slick work from Ethan Thomas.
Wow! What a performance from Kaan Ofli as he defeats Scott Macgregor just one minute into the very first round via rear naked choke. Ofli landed some thunderous punches on Macgregor before jumping on his back and securing the choke in lightning fast fashion. What a night of action so far!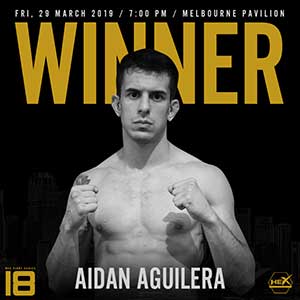 After three rounds of absolutely thrilling action, the judges awarded Aidan Aguilera a split decision victory over Bevan O'Malley. The audience was on the edge of their seats for the entire bout as both men landed multiple strikes on the feet, but it was Aguilera's grappling that ultimately won him the contest. Well done to both fighters! The action continues, we're now at the business end of this epic fight card.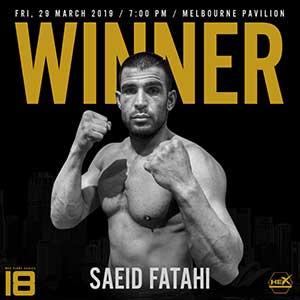 Saeid Fatahi defeats Dane Beeby via Unanimous Decision. Although both men showed some dangerously powerful striking, it was Fatahi's grappling that got the job done tonight. Congratulations to Saeid Fatahi who proves that he is a force to be reckoned with in Hex's Welterweight division.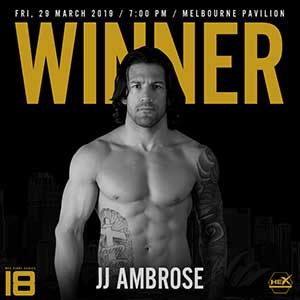 It is all over! JJ Ambrose defeats Beau Rawiri via mounted guillotine choke at the 2.35 minute mark of the very first round. After scoring a thunderous takedown, the American MMA veteran moved to mount and finished the fight with a devastatingly tight choke.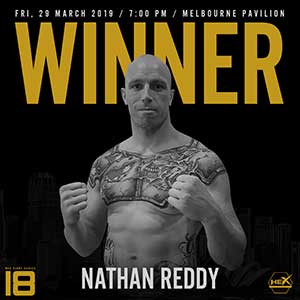 After three rounds of action which saw Nathan Reddy dominate with his grappling offense, the judges awarded the Vanilla Gorilla a Unanimous Decision victory over John Fraser. The night continues to deliver an array of high level MMA inside the Hex Cage.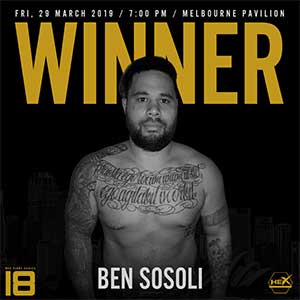 WOW!!! What a way to finish off an epic night of action. Ben Sosoli has knocked out Kelvin Fitial in the very first round of their main event contest here at Hex Fight Series 18!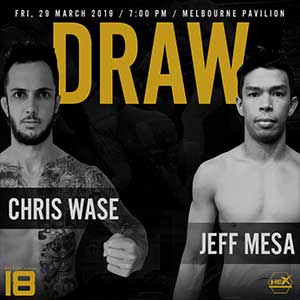 What. A. Fight. After three rounds of gruelling action the judges scored this contest a majority draw. Both men almost finished each other during the contest, and both showed incredible heart, determination, and stamina in the bout.