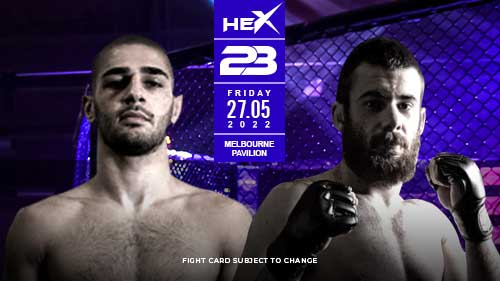 South Australia's Anthony Bynoe, will face Melbourne local, Thomas David, at Hex 23 on May 27th at the Melbourne Pavilion.
Bynoe brings a wealth of experience and over a decade of cage time as a professional fighter, competing across a number of diciplines including MMA, Boxing & Thai Boxing. Currently holding a Brown Belt in Brazilian Jiu Jitsu, Bynoe is also a skilled striker and will be making his debut on the promotion representing Trinity MMA.
The South Australian will have his grappling tested, when he faces BJJ Black Belt, Thomas "Tommygun" David.
A 6 x IBJJF Pan Pacific and 2x UAEJJF Oceania Pro Champion, David returns to the HEX cage for the third time, representing Australian Elite Team. Working hard on his development over the past few years, David has trained with the best, including current UFC fighters Jim Crute and Jake Matthews. David always brings a big crowd with him, so he'll have the hometown support on his side for this one.
With such high level grapplers and experienced strikers, it could go anywhere. All we do know is that these two warriors don't know how to take a backwards step, so either way its going to be an excititng war!
The Hex 23 card is STACKED! More match ups to be announced over the coming days. You won't want to miss this one.